The Tower of Regard of Nakhchivan – Sadarak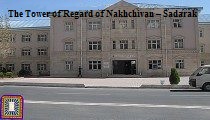 On the title page of the newspaper "Oghuz yurdu", let out in circulation since 2000 as the first publishing body of Sadarak area, besides the basic name of the newspaper the slogan of the national leader of Azerbaijan people Heydar Aliyev "Sadarak is the tower of regard of Nakhchivan" was specified. The great leader's slogan which was put forward in the beginning of 1990 was the highest estimation of firmness and heroism of Sadarak citizens, resistance shown in the territory of the Autonomous Republic subject to the Armenian aggression.
Sadarak is the ancient settlement adjoining on three foreign states (Iran, Turkey and the Republic of Armenia) located on the north-west of Nakhchivan.
It is known that one of the major trading roads passing between the ancient Countries of the East is Anatolia-Iravan-Nakhchivan-Julfa-Tabriz communication. Sadarak is located on this road (55-60 km from Iravan, 70-80 km from Nakhchivan) and during various periods has drawn attention of some historians, geographers and travelers.
Various archeological works were done in the territory of Sadarak in 1958, 1978, 1983 and 2000, famous historians and archeologists Veli Aliyev, Veli Bakhshaliyev, Abbas Seyidov, Safar Ashurov, Namig Aliyev, Najaf Museyibli, Rasul Baghirov and others discovered different samples of material culture. In new book Abbas Seyidov and Vali Bakhshaliyev note that Sadarak territory has more ancient history.
Doc. Dr VAGIF MAMMADOV
Member of the Union of Writers and Journalists of Azerbaijan
From "Sadarak" book by A.Seyidov, V.Bakhshaliyev pg 116