"Postulates"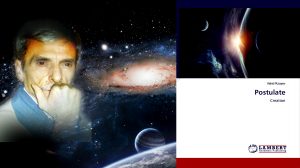 Vahid Rzayev, who had not told anything about the Great Creator's Sayings to anybody during long years, disclosed it for the first time to his brother Fikrat Rzayev by Permission of the Great Creator in 1997. Just Fikrat Rzayev initiated publication of the Great Creator's Sayings in a book form ("Creation") in 1999, and this made the Sayings sent by the Great Creator for all mankind, accessible for broad masses. Other books published afterwards contain answers to our questions about creation, purity, and theology as well.
All written in the books by Vahid Rzayev, as he said, are "Postulates". The books contain information about the Great Creator and His Saints (Angels), structure and motions of the Universe, of suns and planets, as well as of the Earth, initial and further periods of creation of the Universe and mankind, the meaning and essence of individuals' coming to the world and of their return, life standards of behavior and many other issues. This book, introduced to English-speaking readers, cover some part of that information.
Vahid Zeynal Rzayev was born in officer's family in Nakhchivan city (Azerbaijan) in 1947. During 1972-1992 he worked in Nakhcivan Republic Department of U.S.S.R. State Committee of Standards. On November 9, 1987 he was awarded by the Committee with Certificate of Honor for "Efficient and Long-term Labor Activity". He was author of idea of foundation of "AqRA" Public Association on Support for Advancement of Sciense. The Great Creator's Sayings sent to mankind by means of Vahid Rzayev and their interpretations were attracted for the first time in the book entitled "Creation" ("Yaranish") and later in the following 7 books.
Vahid Zeynal Rzayev deceased on September 21, 2018.
Book ISBN (978-620-2-92212-8)