Sara Ashurbayli – Baku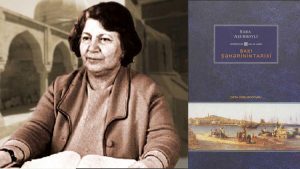 Baki, one of the ancient cities of Azerbaijan, was known in Near and Middle East from the Middle Ages. Its economy was formed by oil and salt production, madder and saffron cultivated in Baki and Absheron region. Their export to the far Eastern countries both by caravan ways and seaways was the important factor of development of the feudal city.
Economic and cultural development of the city was not smooth. Early information on production of large quantity of oil and salt fall on the period of Arabian rule.
Baku was one of the wealthy, economic and trade centers of Shirvan region by the end of 30s of the XIII century. In the XIII century Mongolian conquest and destruction of the country destroyed economy of the city, violated oil production of Absheron and Baki temporarily. But, afterwards, in the end of the XIII century, in the XIV – XV centuries, when Baki became the major port in the Caspian Sea and the capital of Shirvanshahs state of Darbandies dynasty, it turned into one of the most significant cities of not only Azerbaijan, but also all the Middle East.
Translated by Kamala Amiraslanova